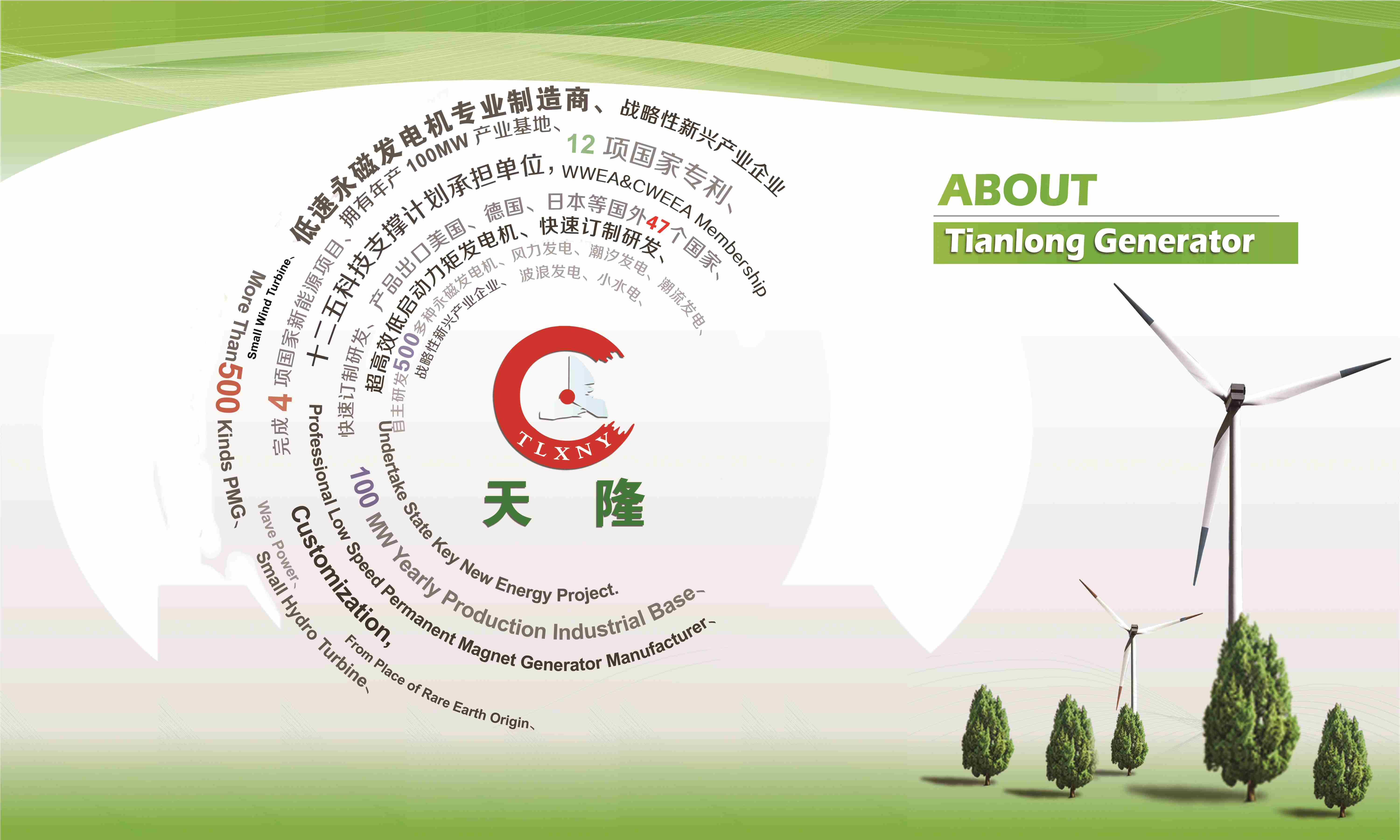 Baotou Tianlong Permanent Magnet Generator Manufacturing Co., Ltd., a professional corporation ,located in Baotou which is acclaimed as 'the home of rare earth and the city of steel on the grassland',engages in manufacturing rare earth permanent magnet generator, It is the director corporation of Chinese Wind Energy Equipment Association (CWEEA) and the member of World Wind Energy Association(WWEA).、 Series of generators, more than 500 kinds, rotation speed from 50 rpm to 750 rpm with rated power from 30w to 500kW in types, including horizontal shaft type, vertical shaft type and outer rotor type, are developed. With the popularity of the consumers,the products have been sold to twenty-nine domestic provinces, autonomous regions cities and special administrative region including HongKong, Macao&Taiwan, and exported to more than forty countries in Europe, America, and southeast Asia circumference.

The R&D center for permanent magnet generator of our company, led by the first-rate expert enjoying the special allowance awarded by the State Department. After years of study, a special way of design is formed.In the past years,the company has developed hundreds of low speed permanent magnet generators for more than 300 customers in wind power ,hydropower ,exercise equipment generation,magnetic energy generation and diesel generator set. Permanent magnet generator samples are provided for the National High Technology Research and Development Program of China (863 Program) and Innovation Fund for Technology Based Firms undertaken by more than 40 universities and research institutions,including Tsinghua University,Peking University,Harbin Institute of Technology,Zhejiang University,Huazhong University of Science and Technology,Ocean University of China, Institute of Electrical Engineering Chinese Academy of Sciences,Guangzhou Institute of Energy,State Grid Companies Nanrui Group Research Institute,Jiangsu State Grid Company Test Institute etc. At present,TianLong has become a professional permanent magnet generator producing enterprise with the largest capacity of single PMG, great variety of generators and the most widely coverage among medium-small wind power industry.
In 2010,The company had come into the National Rare Earth High-Tech Industrial Development Zone,and Invested 60 million RMB to set a new producting areas and a research center which covers14000㎡area.The productive area will be 10000㎡, and the advanced equipments & new production line will be imported to increase the yearly production to 100MW.The company will be the largest permanent magnet generator manufacturer in Chinese small wind turbine area.